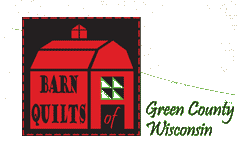 About Barn Quilts
The Green County Barn Quilts Committee is looking for owners of barns, corn cribs, and other farm buildings who are interested in displaying a barn quilt. Quilts will be painted on a wood block (typically 8'x 8'), then hung on the building. This project is based on similar projects in Ohio, Iowa and the Appalachian states. Green County, Wisconsin is launching its own version to promote our agricultural area to tourists.
Quilts, always a beloved symbol of comfort, family, heritage and community will provide a warm invitation to the rural countryside of Green County. Vibrant quilt patterns will be painted on pre-built 8'x8' wooden squares. Each quilt will be painted by a team of volunteers and will require a willing barn owner to donate hanging space on their building. Making these quilt squares will allow volunteer groups from churches, schools, 4-H, scouting, HCE, and other community service groups and even families the opportunity to create and paint their own quilt square as a group project. The square that is chosen may represent a family pattern from a beloved quilt or perhaps a new favorite. The Green County Barn Quilt Committee will work closely with the owner on the design and the colors to be used on the quilt square and will retain final approval.
We will be developing a series of self-guided trail maps to direct sight-seers along the highways and byways to view the beautiful sites of Green County, visit our towns and villages, and enjoy our agricultural icons and their new role as public art.
Criteria for Eligibility of a Barn or Farm Building:
The structure reflects the agricultural heritage of the county.
The barn will be visible without obstruction of trees, crops, or other buildings during all seasons.
The barn should be a stable, permanent building large enough to frame the square appropriately.
The structure does not have to be on an active farm but must be on a farm that is well-kept.
The structure must be located along a road, either hard-surface or gravel, that is well-maintained during all seasons.
Certain aspects of a barn, like history and architectural design, are highly desirable for this project. If your barn meets most but not all of the criteria, it may still be approved by the committee. Each application will be reviewed individually. We encourage anyone interested to complete an application for review by the committee.
Send completed applications to:
Barn Quilts of Green County: Lynn Lokken
N3384 Mon-Syl Rd
Monroe, WI 53566
Download Application
(36K)


Green County Tourism
|
Green County UW-Extension
|
Green County Home and Community Educators
| Courthaus Quilters